The Discovery of Ancestral Synchronicities and Their Meaningfulness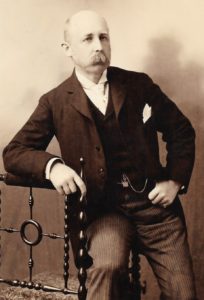 Here below I note persons and events within my own ancestral lineage. And, while these individuals and events may not specifically be of interest to a reader outside my family, it is nevertheless of value to others in that they can look for those individuals and circumstances within their own family history that, like mine, provide evidence of coincidental, synchronistic connections and patterns. These synchronistic events suggest a transcendent connection with those spiritual beings (including but not limited to our biological ancestors) that could be considered members of our soul group. And, if I and others in my family had not done the research that led to these findings their significance would not have otherwise been revealed. The results of this effort has provided me with a greater peace of mind as I face struggles similar to those that confronted my ancestors, and a strong sense that I know and love these individuals, many of whom I've never met. Also, I believe that this work provides an overview of life's processes (births, deaths, and events occurring over spacetime) and an explanation for these processes; evolution through choice and learning ultimately guiding one and all to a divine state transcending spacetime thus is actually ever-present and certain.
A list of the the familial syncronisitic occurrences featured in the anecdotes below are provided below on page 8 for a quick overview of the coincidences. After that I include excerpts from neurosurgeon Dr. Eben Alexander's book "Living In A Mindful Universe" where he mentions the discovery of some of his own surprising ancestral coincidences. Dr. Alexander experienced a remarkable near death experience while in coma and his miraculous recovery from a rare and deadly bacterial meningitis that destroyed his entire cerebral cortex. He has since written three books on his experiences and follow up research and findings as to what these experiences suggest spiritually.
(Photo above of Jamison C. Hall, my maternal great grandfather in San Francisco, b.1859 – d. 1899, but 39 years of age)
Familial Coincidences and (perhaps) Reincarnated Souls.
In 1987 Adam Taylor and I, Leslie Maggy, lived on Dashiell Hammett Street in San Francisco. Our apartments were directly across the street from one another on the same floor and each of our front room windows faced the other. This is how we came to know of one another. Adam, like his father and his grandfather, was born and lived in Baltimore Maryland. He, like his father and brother, graduated from Massachusetts Institute of Technology (MIT) in Boston. Adam then worked for an energy consulting firm in Atlanta, Georgia for a couple of years and had recently moved to San Francisco as a home base from which to travel for several weeks through Asia prior to attending graduate school (at this point he hadn't decided which school). I had lived in the San Francisco Bay area most of my of life other than attending an all girl's boarding school, Roger's Hall (as did my mother), in Massachusetts for one year during high school. During my twenties I backpacked through Europe and briefly lived and worked in, exploring, various cities in the U.S. (Las Vegas, NV, Aspen, CO, Spokane, WA, Boston, MA, San Francisco, CA. and Berkeley, CA).
When Adam and I first met (and I clearly remember this to this day) I could not prevent myself from giggling when I looked into his eyes. It got to be embarrassing enough that for a time I avoided looking into his eyes until the reaction ceased. It was as though I was subconsciously amused at his current incarnation having known him well in a previous incarnation. I say subconsciously, for at the time I was aware of the concept of reincarnation but knew very little about it and what I did know didn't make any sense to me. I recall thinking why come back in another body without any knowledge of previous incarnations? How is that helpful? Now, years later, I know more of the theory behind reincarnation and consider it plausible. There were also a few occasions over the next couple of years when I emphatically thought to myself, "My gosh, he's Dearie" (more on Dearie later) and still when not being a believer in reincarnation.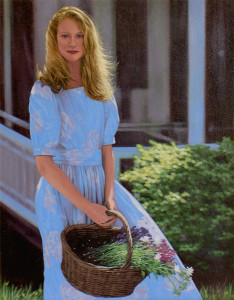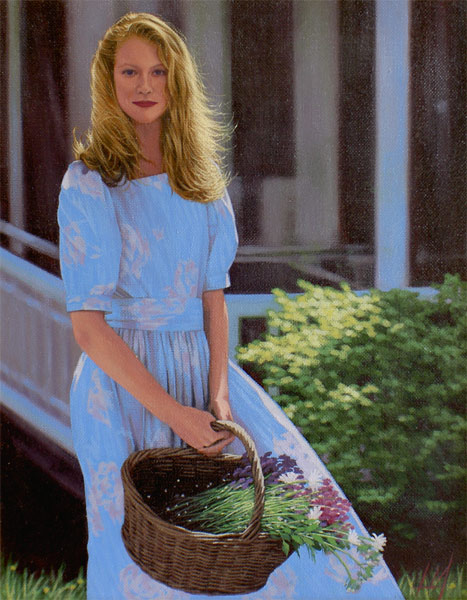 Soon after Adam and I met I heard from my Uncle Darrell, my father's brother, in Portland, Oregon whom I had not had contact with since I was a child when he lived in Marin County, California. Uncle Darrell was planning a visit to California to catch up with relations and wondered if I would contact my siblings and we could all meet in San Francisco for lunch with his wife and two sons. (I later learned that he was not well and had not long to live). I was delighted and made the arrangements and we all had a fine time. When nearly finished visiting my uncle inquired about my artistic endeavors knowing that I had acquired the ability to paint and draw genetically (my father and his father had the same natural talent). I suggested that he and his wife, along with Adam and I, go to my apartment and he could view some of my works. The four of us then got into a cab and once we entered the apartment lobby he noticeably became very still and quiet then stated that he lived in the very same apartment building when he was a young man. Uncle Darrell went on to say that he would frequent the bar just down the street famous for its being featured in Dashiell Hammett's novel "The Maltese Falcon." Before Darrell and his wife departed he turned to Adam and said, "You take care of her."
(Image of one of my paintings above titled "Laurel')
(1)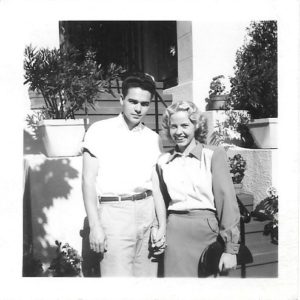 In 1989 Adam began graduate school at the Hass School of Business at the University of California, Berkeley and we moved to Berkeley, where I was born. We rented an apartment but four blocks from where my mother's parents owned an apartment building and where my other uncle, Robert Maggy, lived while he was getting his PhD in mathematics at Berkeley. This is how my father, Amos I. Maggy (1926 – 1997) and my mother Esther K. Hall (b. 1928) met (image on left). Both my mother and father were coincidentally the third Amos and Esther each named after a parent and grandparent.
My father and his other brother, Uncle Darrell whom I've already mentioned, had also gone to Cal (as the University of California, Berkeley is sometimes referred to). One evening I went with Adam to the computer lab (before PCs and laptops) at Hass so he could do his homework there. At one of the computers I searched my father's name and discovered that he not only got his bachelor's degree but his masters in business administration, or MBA, from Berkeley as Adam was in the process of doing. My family is not at all close which is why I did not already know this. I also learned, much to my surprise, that my father's undergraduate thesis was on the same topic as Adam's MIT undergrad thesis: extracting natural gas from shale; the holy grail of the energy industry at the time and now known of as the controversial fracking process. Adam's undergraduate studies at MIT were centered around energy engineering. My father had a very high IQ [169] and extraordinary memory which he was known for. He also worked as a decoder during WWII in the U.S. while in the military. Adam was honored as valedictorian of his class at Berkeley.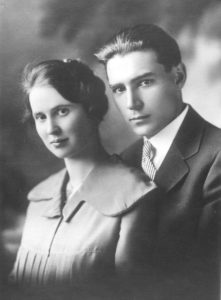 Another, seemingly minor, coincidence is that both my Grandfather Amos Maggy at the University of Michigan and Adam at Berkeley were one of five finalists in oratory competitions (I had photographs of both the competition finalists, now just my grandfather's). My mother and father were married in a private home, where they met, in Berkeley in 1949. In 1991 Alan and I were also married in Berkeley. Our wedding was held at the English Tudor Faculty Club building on the university campus. (The image on the right is my grandfather Amos Maggy and his fiancé, years later my grandmother, Florence Krengel).
Once Adam had finished with his education there his best job offer in the energy consulting industry was from a firm in Boulder, Colorado which he accepted and we moved there. Colorado is beautiful and Boulder is a college town. We bought a brand new home with views spanning a spectacular portion of the front range of the Rocky Mountains. For nearly 15 years I thought we landed in Heaven on Earth. Then that was to dramatically change.
(2)
Special Bulletin!
I was at this place in this piece titled "Everything Is Going To Be Alright"  when I took a break from the computer, went to the couch and opened "A Course in Miracles" to the current daily lesson #292 and this is what is written (in brief):
A Happy Outcome to All Things is Sure
"God's promises make no exceptions. And he guarantees that only joy can be the final outcome found for everything … all problems we perceive, all trials we see, and every situation that we meet. Yet the ending is certain. For, God's will is done on Earth as it is in Heaven" (italics are mine).
Here I will add that it is my impression that those who have passed before us (including the conveyor of "A Course In Miracles") are interested and involved in our progress on Earth for, it is in their interest as well. The intention is to accept Heaven on Earth, to merge with the real, the true state of Heaven in accordance with our choices; our will as one with God's will. And this is guaranteed, done already in fact. For, in Heaven there is no time nor space between; no separation. In this piece, and throughout this Miracles For All website, one can see that time and space and causal, linear processes have little to do with connected, synchronistic, events.
Back to Ancestral Synchronicities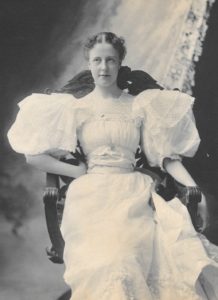 Edwin Rutherford Chappell (1875 – 1919) who was my maternal great grandfather married Esther Cecilia Collins (1874 – 1960) – I knew her as Dearie. They were married somewhere in Illinois (they eloped). Dearie, as she was known to all of us, was my great grandmother and I remember her well. She died in Walnut Creek, California in 1960 when I was 9 years old. Adam was born in 1961 (I'm 10 years older than he).
Edwin Chappell's father, Phillip S. Chappell (1837 – 1896) was a scientist, a chemist, and worked in manufacturing in Chicago, Illinois. I shall add that I have a strong interest in science (that no other in my family has exhibited) having studied four different scientific fields: taken two college courses, several online courses, belonged to a cosmology group for a three years, read numerous books, attended lectures, etc. My interest is largely inspired by my quest to discover the Source and meaning of life.
Edwin, as was the case with his mother, Eliza Chappell, was born and raised in Baltimore, Maryland as was Adam, his father and grandfather. Adam's grandmother was from England as was Edwin's grandfather and grandmother. Edwin R. Chappell became a criminal prosecution attorney. And here I get conflicting reports, but I believe he either worked in the District Attorney's office in Chicago or perhaps he just went to law school there. Then, he and his wife, Dearie, moved to St. Louis, Missouri where she was from and he worked as the assistant District Attorney in St. Louis. One can imagine what sort of crimes he was exposed to in the course of his work (and there is a reason why I mention this).
(Image above of Esther Cecilia Collins, Dearie, 1894)
(3)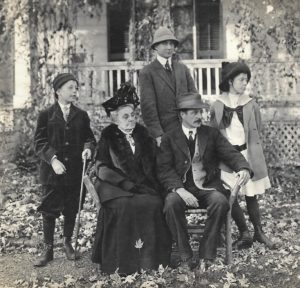 I never knew this man existed until in my early fifties when I received from my mother all her family photos. There is but one photo of him amongst the dozens of my mother's family photos dating back to the 1850s. Yet, he was the father of Dearie's three children including my maternal grandmother Esther Chappell Hall (1901 – 1979), the young girl on the right. The only husband of Dearie's that I was aware of was Clarence J. Hicks (1863 – 1944)  who was an executive at the International Harvester Company in Chicago, then later the executive assistant to the president of Colorado Fuel & Iron Company bought by John D. Rockefeller and the Standard Oil Corporation following which Clarence Hicks worked as executive assistant to John D. Rockefeller in his offices in New Jersey.
Clarence Hicks had a bachelors and law degree from the University of Wisconsin and received honorary degrees from Princeton and the University of Michigan. He was a regular speaker on industrial relations between industrialists and workers at Harvard, Yale, Princeton and other major universities (the result of his successful mediating between the striking minors at Ludlow, Colorado and Standard Oil Corporation) among other notable career achievements. Mr. Hicks, the only maternal great grandfather I was aware of, was Dearie's second husband and not my great grandfather at all. Given the professional prominence of her second husband and, historically, divorce was considered disreputable, especially for women, the very existence of Edwin R. Chappell was completely forgotten; to his own children even, save the one photograph I now have of him. I was also informed by my mother's cousin that during his marriage to Dearie he was never treated respectfully by her prominent family.
(Photo above of Edwin R. Chappell, his mother and three children around the time of his divorce).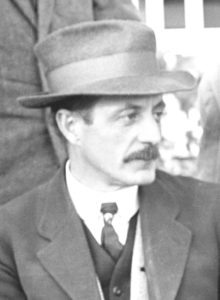 When I first saw his photo, before learning anything about him other than he was my actual great grandfather, I said to myself, that's me, I'm Edwin Chappell reincarnated. And, I understood why I had recognized Adam as I did, as Dearie, when first we met. His career had not been successful. I was told by a relative that he would get so caught up in researching a case that he would not be prepared in time for trial. (Recall his father was a scientist which may be an explanation). His wife and three children had abandoned him and he moved to Colorado where he lived with his brother in Cannon City. Edwin and Dearie, according to my mother, like Adam and I were divorced in Colorado. He then contracted influenza and his mother, Eliza A. Chappell (1803 – 1919) moved into her son's  home where she cared for him until his death. This resulted in her also contracting influenza and she died soon thereafter.
Not only had Edwin come to live in Colorado but, as I previously mentioned, so did Dearie and with Clarence Hicks. For Clarence, as reported in the paragraph above, working along with the Canadian, Mackenzie King (who later became prime minister) hired by John D. Rockefeller, helped bring about a peaceful resolution to the miners' labor strike that had lead to the brutal Ludlow Massacre (more on that later). All five persons, Dearie, her first and second husband Edwin and Clarence, Adam and I, and no other relations of mine or Adam's, and all from entirely different parts of the country, lived in Colorado for a time.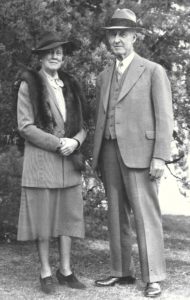 Let us here note that Adam worked, and still does, as Clarence Hicks did in the energy industry as advisors, yet in entirely different capacities. And, like Mr. Hicks, Both my father and uncle Robert worked for Standard Oil in San Francisco. Robert Maggy was a Vice President there for many years. These and the other synchronistic connections listed above (and there are more) were not the result of any sort of social/cultural group affiliations. No one on my mother's side of the family knew any one on my father's side of the family; the Standard Oil connections are coincidences.
(1938 photo of Clarence and Esther Hicks on the right)
I recently discovered this information so I shall insert it here: My paternal great grandmother's maiden name was Hicks, Matilda Hicks (1868 – 1932), as was my maternal great grandmother's (Dearie's) second husband's surname, Clarence Hicks [above]. Thus, both my maternal and paternal great grandmother's last names were Hicks.  Both couples were from different parts of the country and in no way related. Matilda Hicks married Amos I Maggy Sr. (1861 – 1935) in 1888 and they lived in Spokane, Washington. I lived with friends in Spokane during the summer of 1971 (exploring the country). Amos died in Wilder, Idaho. I moved from Boulder, Colorado a year ago and now live in Boise, Idaho (as of this writing in June, 2018) but 39.9 miles from Wilder. My decision to move to Boise was based on real estate values and needing to leave Boulder out of concern for my safety and psychological well being (more on that later) prior to which I've never had reason to give Idaho much thought.
(4)
A brief history of the Ludlow Massacre, Ludlow, Colorado 1914
The Ludlow massacre was an attack by the Colorado National Guard and Colorado Fuel & Iron Company guards on a tent colony of 1,200 coal miners and their families at Ludlow in 1914. The chief owner of the mine, John D. Rockefeller, was widely criticized for the incident. There were 11,000 miners in southern Colorado who worked for the Colorado Fuel & Iron Corporation which was owned by the Rockefeller family. They went on strike against low pay, dangerous conditions, and the feudal rule of their lives in shanty towns run by the mining companies. One of their grievances was that they were not paid for the construction of safety beams in the mines so that the mines would not collapse on them! When the strike began, the miners were immediately evicted from their shacks in the mining towns. Aided by the United Mine Workers Union they set up tents in the nearby hills and continued with the strike picketing from these tent colonies.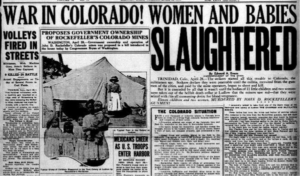 In April 1914, the National Guard was stationed in the hills overlooking Ludlow, the largest tent colony of strikers housing a thousand men, women and children. Initially the miners thought the Guard was sent to protect them and greeted their arrival with flags and cheers. They soon found out the Guard was there to forcibly put an end to their strike. On the morning of April 20, a machine gun attack began on the tents. The miners fired back. Some women and children dug pits beneath the tents to escape the gunfire. At dusk, the Guard moved down from the hills with torches, set fire to the tents, and as the families fled into the hills thirteen people were killed by gunfire. The following day, a telephone linesman going through the ruins of the Ludlow tent colony lifted an iron cot covering a pit in one of the tents and found the charred bodies of eleven children and two women. The miners had lots of public and media support but the country was soon distracted by other political events and WWI.
(Images above of some of the miners and their families at the tent colony and the newspaper headlines following the carnage).
(5)
Reincarnation and Unfinished Business
When I met Adam (in San Francisco) I was a struggling artist working as a waitress in bars at night in order to give me the time and daylight hours to paint. I hated working in bars for these work environments were, perhaps still are, quite uncivilized. I'm not referring to the customers, I'm referring to restaurant and bar owners, managers and bartenders mostly, though many of my coworkers were what I would refer to as undisciplined. I lost jobs repeatedly being unwilling to either sexually comply with managers or party after work well into the early hours of the morning with coworkers. I was pretty and I could get a job on any day and work that very night in just about any bar in town, but I would lose the job very soon thereafter for the reasons already mentioned. This was in the 1970s and 80s and sexual harassment was rampant in these industries. I should add that I had much respect for and fondly remember some of my co-workers in the industry.
As I have already stated I consider it possible that Adam and I are Dearie and Edwin Chappell reincarnated who, obviously, had considerable unfinished business. During our marriage Adam supported my (commercially unsuccessful) career as artist. I could not for the life of me get a reputable gallery to exhibit my paintings among numerous other failed marketing ventures (the contemporary art scene has for decades now become completely senseless throughout). All modesty aside though, the works contributed to our home, and the one I now live in, being quite beautiful inside. During those years we were together I benefited not only from having the time to paint, but from Adam's considerable education, and to pursue ongoing learning in general on my own, and take up the piano then later the flute.
His family did not treat me with much respect (recall Dearie's family's treatment of Edwin) and this, along with other factors, over the first eight years threatened to ruin our marriage. We sought counseling which was quite successful. Then a few years later, perhaps five, we became acquainted, due to their and our participation on the board of our community's Home Owners' Association with neighbors whom we naively did not realize were members of organized crime involved in prostitution and pornography. We also purchased a second property downtown; a condominium for me to work out of, a place for us to enjoy on the weekends in an urban environment and as an investment property. The price was "too good to be true" I now know. And, not coincidentally as I first thought, the neighbors at the downtown location were associated professionally and personally with our neighbors involved in prostitution and pornography at our primary residence. In other words, we were intentionally led to that property for purchase by our real estate agent (I believe, I do not know, that she knew the history of the property). Additionally, one of the largest erotic materials production and distribution facilities in the country, New Frontier Media, owned by Larry Flint (Larry Flint Productions produces sexually graphic videos and magazines, most notably Hustler Magazine) is located in a business park in the Gunbarrel residential community just outside Boulder and but a couple of miles from my husband's and my home.
In 2006 our relationship was becoming strained again and I moved into the condominium as my full time residence and Adam remained living at our home. Around this time a neighbor informed me that that the condominium was used for pornography production and prostitution prior to our ownership. I began receiving up to a dozen porn emails daily from an unknown sender[s] including one involving a child. My artist website, which was professionally designed and not at all inexpensive, was converted into a porn site and I had to shut it down. I was propositioned by three different men who probably assumed I was a prostitute given where I lived, and a promising business opportunity I was excited about suddenly evaporated without explanation. As an aside, years later, a law enforcement official said that my efforts to expose these individuals' criminal conduct resulted in their reputation being ruined, for the information had gotten around town. Never-mind my reputation. Another said I should just be glad I'm still alive. I've covered the events elsewhere on this Miracles For All Website involving these criminals and corrupt law enforcement officials whom I sought for help as I, and no doubt others, became more and more endangered. (See links below for the locations on this site).
(6)
Let us here recall that Edwin Rutherford Chappell was struggling with his career as Assistant District Attorney in St. Louis which most likely contributed to his divorce. I have no doubt that the struggles I had with my career and later, the sophisticated mind breaking techniques utilized on me by the mafia contributed to the destruction of my marriage: gang stalking which includes tactics such as hypnosis, drugging, extreme and ongoing inexplicable hostilities directed at me by many persons in various circumstances and locations (I became convinced they intended to murder me at some point or were pushing me to commit suicide), break-ins into my home, car, mailbox, computer for purposes of theft and vandalism, etc.  Perhaps the intent of all this menacing was to recruit me into their organization for what I could not say, but these tactics are known to be utilized for that and other purposes. Or, the original intent was to extort funds from my ex husband and I prior to our divorce. This was suggested to me by a person knowledgeable about the mafia, their activities and their methods. At the onset, my husband thought something strange (like my being hypnotized) was having a psychological effect on me and he was willing to help. There were times when his help was invaluable and I would now be in a very different and dire situation without that help. Then his attitude changed, and I will not say what all transpired in his life that produced that change.
To my ex-husband and his entire family it is as though I never existed. This is exactly how Dearie and her family, including their 3 children, treated Edwin Chappell. For 16 years I was a very kind and loving aunt to my nieces and nephew and got along well with Adam's parents, siblings and other relations. They think I'm insane. The same is true with members of my own family. The police portrayed me as paranoid in their reports, and in public I was reacted to, on a couple of occasions, by the police as though I were a dangerous person. I cannot begin to describe how strange and stressful this all was; for years I was shaking inside.
Regardless, I persevered attempting to expose these criminals and their activities (more than I've reported on this website) for, according to their website information, they managed 1,600 student housing units in Denver and Boulder, Colorado. They had three offices in Denver and Boulder; two across from CU university campuses. It  became a mission. I thought, and still do, I was in that particular circumstance for a higher purpose. And, thinking that I may very well be the reincarnation of my great grandfather Edwin R. Chappell the prosecuting criminal attorney whose life had ended early and tragically at a time in his life when it was at a professional and personal nadir but served to further encourage me. I had to prove myself regardless of my being without any support from anyone (unless I had help behind the scenes from the police and/or the FBI that I am unaware of). I have no idea where the case stands or if there ever was a case. Nonetheless, hopefully my efforts were not entirely in vain and perhaps even saved others, particularly more vulnerable young persons, from these criminals and their organization.
Once in a while I look at Edwin's one and only photograph and tell him, and myself …
Everything is going to be alright. 
(7)
A list of the above familial synchronistic occurrences and what they may reveal:
Important to Note: The list below is not a long list of coincidences, and some rather minor and seemingly irrelevant (as in Amos and Esther each being the third named after their parents and grandparents) and therefore the coincidences may be judged as insignificant. However, what is important to note is this is pretty much all of the information I have about my ancestors. My family was not close and most of what I have learned, I learned later in life. The number of connecting coincidences and synchronicities within this small sample group is therefore quite significant.
~ Leslie's ex husband, Adam, his father and grandfather were born and raised in Baltimore. Edwin R. Chappell's (Leslie's great grandfather) father and grandmother were born and raised in Baltimore. Adam's grandmother was from England as was Edwin's grandmother and grandfather.
~ Leslie (Maggy) Taylor's Uncle Darrell Maggy lived in the same apartment building in San Francisco as Leslie did roughly 25 years later (across the street from Adam Taylor's apartment and how they met).
~ Adam is accepted into and attends Berkeley's Hass School of Business. Leslie's father and two uncles, Darrell and Robert, also went to Berkeley. Leslie discovers that her father also attended Hass (she knew he was an undergraduate student at Berkeley but not also a graduate student there) and discovers that Adam (at MIT) and her father (at Berkeley) wrote their undergrad thesis' on the same energy related subject.
~ Adam and Leslie rent an apartment but 4 blocks from an apartment building her grandparents owned and rented an apartment to her Uncle Robert Maggy while a PhD student at Berkeley.
~ Adam and Leslie are married in Berkeley. Leslie's parents, Amos I. Maggy and Esther K. Hall, were married in Berkeley.
~ Leslie's parents Amos and Esther were both the third persons named after their parents and grandparents.
~ Adam and Leslie moved to Colorado from Berkeley, California. Her maternal great grandfather, Edwin Chappell, moved to Colorado from St. Louis, Missouri and died there (as Leslie nearly did). Her maternal great grandmother, Esther, known as Dearie, and her second husband, Clarence Hicks, moved to Colorado from St. Louis for a time while Clarence worked there on behalf of J. D. Rockefeller. Adam, Leslie, Dearie, Edwin, and Clarence all moved to Colorado from various parts of the country. Dearie and her first husband, Edwin, were divorced in Colorado as were Adam and Leslie.
~ Edwin R. Chappell, was a criminal prosecution attorney – assistant District Attorney in St. Louis. Leslie was involved for many years endeavoring to provide evidence to law enforcement agencies and the DA in Boulder of criminal activity and corruption.
~ Edwin Chappell's father, Leslie's great great grandfather, was a scientist and Leslie has studied four different scientific fields.
~ Edwin was not well regarded by his wife's family nor was Leslie by her husband's family. Dearie and her entire family, including their children, ceased to acknowledge Edwin's existence. The same is true of Adam's family regarding Leslie.
~  Clarence J. Hicks, Leslie's great grandmother's second husband, worked as executive assistant to John D. Rockefeller and the Standard Oil Corporation in Colorado, then later New Jersey. Leslie's father and Uncle Robert worked for Standard Oil Corporation in San Francisco (no connection between these parties).
~  Leslie's paternal great grandmother's maiden name was Hicks, Matilda Hicks, as was her maternal great grandmother's second husband's surname, Clarence Hicks. Therefore, both of her great grandmothers' last names were Hicks. They were not related in any way.
~ Matilda Hicks married Amos I Maggy Sr. in 1888. They lived in Spokane, Washington and Matilda died there. Leslie had lived in Spokane for a summer when she was 19 years old. Amos died in Wilder, Idaho. In 2017 Leslie moved from Boulder, Colorado to Boise, Idaho but 39.9 miles from Wilder.
(8)
Dr. Eben Alexander – From his book "Living in a Mindful Universe"
Complex synchronicities and their meaningfulness; here specifically regarding ancestral syncronicities:
As stated at the beginning of this piece neurosurgeon Dr. Eben Alexander experienced a remarkable near death experience while in coma and miraculous recovery from a rare and deadly bacterial meningitis that destroyed his entire cerebral cortex. He has since written three books on his experiences and follow up research and findings as to what his experiences suggest spiritually. It should be noted that as his adoptive father was a neurosurgeon and due to his father's influence he too chose to become a neurosurgeon. Here are a few excerpts from his book:
"During my neurosurgical residency, I spent two years (1985 – 87) investigating cerebral vasospasm, a particularly deadly complication of subarachnoid hemorrhage (SAH) from aneurysms that maims and kills approximately one-third of the patients who survive the actual hemorrhage. Following residency, in 1987 I pursued a fellowship in vascular neurosurgery, intensely studying the surgical management of aneurysms, before securing a position at Harvard Medical School heading up vascular neurosurgery at the Brigham and Women's Hospital."
"I was adopted, and in the search for my birth parents, I later learned that this hereditary affliction was a part of my biological family's medical history. It was this hereditary condition that motivated my birth sister to reach out to the adoption agency (in search of her brother given up for adoption), a crucial step in our eventually reconnecting. Information revealed to me in February 2000 indicated that my maternal grandfather had suffered an aneurysmal subarachnoid hemorrhage that left him badly impaired for a few months before he finally succumbed in 1966. My birth mother had two sisters, and in 1978, her youngest sister suffered an SAH and died within a day. Her other sister endured an SAH in 2004 at age 65, which seriously incapacitated her for about 3 years, although she has gone on to a miraculous recovery (to the point where she has won several local golf tournaments in recent years). (Let us recall his own brain disease and miraculous recovery as well as his medical specialty, SAH). I initially reacted with amazed shock at this seeming coincidence, but perhaps my career choice in the 1980s had some deeper (subconscious) connection with my personal biological predisposition two decades later."
"In some of my meditative explorations, I have sensed an awareness of the soul agreements of my adoptive parents, birth parents, and birth grandparents to set up their lives in the ways that resulted in my personal adoption drama, but of course validation of such sensation can be quite difficult. It seems the whole matter of the infertility of my adoptive parents (they later had two biological daughters, Eben's sisters) and my birth parents giving me up were agreed on by them before birth, and ties together our soul journeys"
"Even my Great grandfather, then known as Eben Alexander Jr., made himself known during a series of fund raisers I spoke at for the Children's Home in North Carolina. Readers will recall this is the organization that cared for me as an infant and arranged my placement with my adoptive parents." "… the book "Adoption Means Love," a history of the Children's Home includes a mention of a previous Eben Alexander, whom I confirmed to be my great grandfather."
Here we observe in both Dr. Alexander's and my family's history surprising coincidences that I suspect, as does Dr. Alexander, suggest that we are members of soul groups with an evolutionary intent involving the whole of the group and beyond.
(9)
Chaos Theory And How It Applies Here 
Mysteriously corresponding behavior between parties over space and time.
Chaos theory in mechanics and mathematics is defined as the study of apparently random or unpredictable behavior in systems governed by deterministic laws. An attractor, in chaos theory, is a set of numerical values toward which a system tends to evolve from a wide variety of starting conditions within the system. A strange attractor is an attractor in which the evolution is non-linear, non-local, and demonstrates seemingly chaotic randomness, yet resulting in an evolution through a series of states. Stated differently, chaotic systems are inherently unpredictable yet deterministic, ultimately resulting in an orderly outcome. 
"The ancestral coincidental events documented here demonstrate synchronistic acausal effects (in Jungian psychology acausal is defined as: related by meaning rather than causation) and seemingly random, non-linear, non-local effects (mysteriously corresponding behavior between parties over space and time (across the country and in past and recent times))." Yet, a collective intent, throughout and all along, though not consciously realized by any of the parties involved, may very well act as a guiding influence toward a predetermined end result. In economics the term  "Adam Smith's invisible hand" gives us a good analogy.
There is an intention behind reincarnation yet the incarnate souls are unaware, for the most part, of the intended result when reincarnated thus allowing for choice; if you know the outcome of a choice there is no choice involved. The collective activity, as in ancestral up to the present familial groups, can be compared to self-organizing systems observed involving, for example: at quantum levels the formation of crystals, or the processes involved in cellular differentiation from a single fertilized egg to a full grown adult organism. These and other self organizing structures, or systems, come into play then start interacting with other self organizing structures, or systems. This, in fact, is also how eco systems, societies, and stock markets behave – solar systems even. There are countless examples at all scales from the very origin to the increasingly complex evolution of the universe itself.
There are clearly deterministic evolutionary processes at work toward a predetermined  outcome although not necessarily apparent to any one atomic particle as in the growing crystal, or a particular cell out of the trillions of cells as in the case of a developing human organism, or a single human being out of the whole of humanity. And learning, choices (that which doesn't work is not repeated and what does is) seems to occur over the course of these processes taking anywhere from Planck units of time [10–43 seconds] to eons. (Planck units are the tiniest units of time, lengths and geometries to emerge from the spaceless timeless infinite, infinity, named after the physicist Max Planck who specifically quantified these units).
However, a consciousness from a vantage point seeing a greater whole of the activity of these various parts and processes can legitimately conclude that an evolutionary intention guided by higher, spiritual, deterministic laws toward an already perfected divine state is at work in all evolving and interacting systems or states. And, where an individual consciousness is, at what evolving state, depends on the expanse (Love being the only expanding attractor, if you will) of that individual's consciousness.
Note: My description of chaos theory is exceedingly simplistic. There is much more to it that what I've referred to here such as sensitivity to initial conditions. For example, within a complex or a non-linear dynamic system as in the weather, any slight change in the initial conditions changes everything. The theory was summarized by the atmospheric scientist Edward Lorenz who applied the phrase "the butterfly effect" to it. The butterfly effect describes how a small change in one state of a deterministic nonlinear system can result in large differences in a later state, e.g. a butterfly flapping its wings in China can cause a hurricane in Texas.
******
(10)
For an excellent lecture on chaos theory go to Modern Science, Chaos Theory by Steven Gimbel, PhD:
https://www.youtube.com/watch?v=WGJzim0KOCE
For accounts of the events involving members of organized crime interwoven throughout this website go to:
Chapter (A) MIRACLES and scroll down to the posts titled Divine Message – A Most Difficult time, page 22, then Downtown Art Studio, page 23, and next "Visions of Menacing Entities," pages 24 & 25 [above]. Following having read these posts, the reader should next go to chapter (C) MIRACLES and read the first post titled A Most Difficult Time (organized crime and pornography) pages 53 & 54. Then on chapter (F) "The Varieties of Religious Experience" – Part I, pages 27 and 42 [above], and from there chapter (G) "The Varieties of Religious Experience" – Part II, pages 71 and 72 and chapter (H) "The Varieties of Religious Experience" – Part III , on pages 94, 111 & 112, and 142 & 143,more on chapter (P) "Everything is Going to be Alright …" page 6 [above] and on the 2nd chapter (P) Evil recognized, identified, its effects …" then on chapter (Q) "Part I – New Information, Miraculous Events and Book Reviews": post dated February 9, 2017 – Gang Stalking and FBI FOIPA Report, and post dated March 8, 2018, page 3 – The Paranormal, Organized Crime and "A Course In Miracles" 
Links to the chapters referred to above (the links are different colors but they all work):
(A) MIRACLES – https://miraclesforall.com/miracle-stories-page1/
(C) MIRACLES – https://miraclesforall.com/miracle-stories-page3
(F)  https://miraclesforall.com/the-varieties-of-religious-experience-by-william-james/
(G) https://miraclesforall.com/g-the-varieties-of-religious-experience-by-william-james-part-ll/
(H)  https://miraclesforall.com/the-varieties-of-religious-experience-by-william-james-part-iii/
(P)  https://miraclesforall.com/wp-admin/post.php?post=3432&action=edit
(P) https://miraclesforall.com/p-evil-recognized-identified-its-effects-on-the-world-and-its-consequences/
(Q)  https://miraclesforall.com/p-part-ii-new-information-miraculous-events-and-book-reviews/